This week's Ones to watch are:
Spider-Man: Fever Issue 1
One of comics' most innovative and original voices, Brendan McCarthy, brings SPIDER-MAN: FEVER -- a truly unique and surreal story evoking the classic Silver-Age psychedelia of Steve Ditko's Dr Strange. In FEVER, Spider-Man is abducted by a depraved tribe of spider-demons to a bizarre dimension, where he is to be eaten alive. Dr. Strange goes on a perilous occult quest to rescue his friend -- and tangles with some very peculiar characters along the way...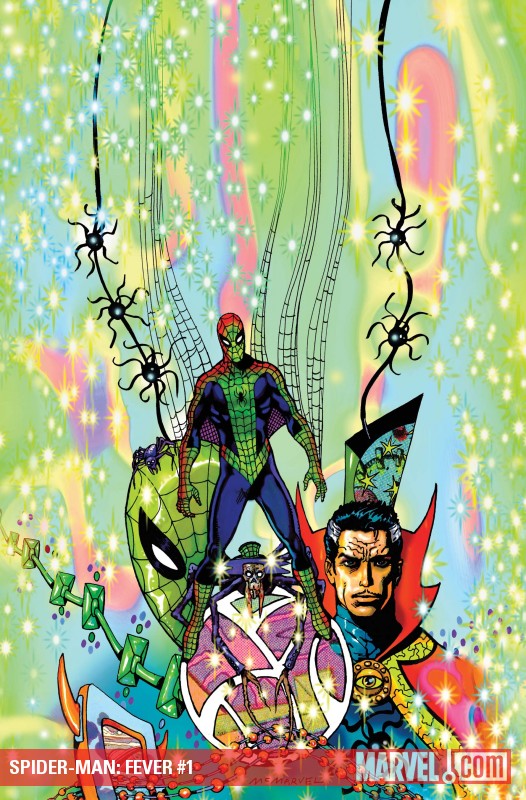 Turf Issue 1
A four-issue hard boiled noir crime thriller with girls, guns, fangs and aliens.
New York, 1929. The height of prohibition. The cops turn a blind eye while the mobs run the city, dealing in guns, girls and illegal liquor. But the arrival of the mysterious Dragonmir Family from Eastern Europe with more of a taste for blood then booze co-incides with a series of brutal attacks on the gangsters themselves. As the gangs fall before the fangs, only handful of mobsters survive. But an unlikely alliance formed between tough guy Eddie Falco and a character from a LONG way from New York City – a long way from Earth in fact - offers the humans a glimmer of hope. As the strong willed young reporter Susie Dale from the Gotham Herald tries to survive in the middle of the maelstrom, and an ancient prophecy unfolds, no one can guess who's going to win the battle for this particular slice of Turf.